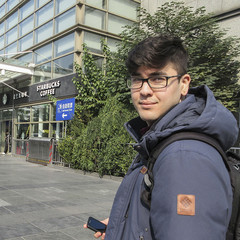 Jose Concha
3D Artist
Madison, United States of America
Summary
- Self motivated 3D artist with a can do attitude.
- Extensive experience working alongside engineers to aid in developing and streamlining workflows/tools.
- Critical thinker with a knack for problem solving and passion for perfecting my craft.
Skills
3D Modeling
Digital Sculpting
Lighting
Low-poly Modeling
UV Mapping
High-poly Modeling
HDRI Photography
Photogrammetry
PBR Texturing
Software proficiency
Experience
3D Artist / Technical Artist III at PerBlue

Madison, United States of America

- Collaborate with the producers, art directors, artists and programmers to define, implement and iterate on features and changes.

- Problem solve, profile and optimize issue across the product and art/development pipeline.

- Act as subject matter expert for tooling and art processes.

- Create assets to coach artists how to work optimally.


3D Character Artist - Freelance at Orionark Games, LLC

United States of America

- Model and texture base characters and equipment for a modular character system.

- Model and texture props and other key assets.

3D Artist/ Unity Asset Store Publisher at https://assetstore.unity.com/publishers/12886

Madison, United States of America

- I create and publish assets for the Unity asset store.

- I've maintained these assets throughout Unity's update cycles and continue to interact with customers who might have questions.

Game Artist at Sega Networks, Three Rings Design

Madison, United States of America

November 2015 - March 2016

- Model, rig, and texture hero and enemy characters for an untitled project.

- Help establish and unify baking procedures for 3D assets.

- Implement assets and troubleshoot issues found during implementation. Update documentation based on research.


3D Artist at Rocketeer Games

Rocklin, United States of America

- Replace art for an existing IP and optimize assets to work well within web streaming limitations.

- Created weapons, vehicles and character skins.

- Implemented an array of in-game assets including environment prefabs, collision, level layout, and baked lighting.